World's Finest
A DC Rebirth RP
World's Finest is a DC Comic Rebirth Site, we take place after the events of Dark Night Metal but instead of having Batman and Tim Drake returning. The two never returned from their events which happened in their solo comic, with Bruce gone Gotham is now in the hands of the his few apprentices one being his son Damain Wayne. And with Tim vanishing the Titans the world knew has ceased to exist leaving chaos to file the streets of not only Gotham but for cities around the world. Here we are Earth 7 of Prime Earth, Prime Earth was formed by the temporal merging of the disparate DC, Vertigo and WildStorm universes.
Most Wanted
1/12/18 Where now opened!
3/1/18 Come join the Fun!
played by Harley Quinn
36 posts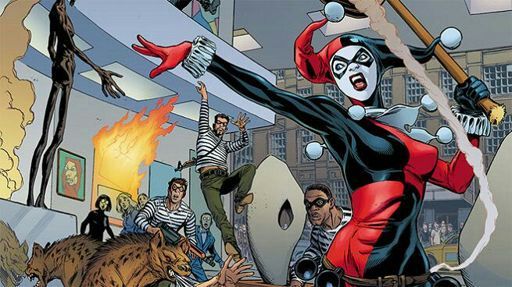 "So, there's this fancy European guy, and he covers giant animal skulls in all types of expensive jewels and tours them all over the world!"
"His insurance guys vetoed him exhibiting the cat, penguin, and two-faced snake skulls here. Too provocative to Gotham's world-famous 'Underworld Elite'!"
"But the multi-million dollar hyena skull? Oh sure. Who'd steal that?!? That's insulting, right? So that's why I'm here, with a bunch of guys I found on craigslist - really, who is craig, and why is his list so long - to steal me that gorgeous paperweight!"
With a huge boom, the glass door to the Gotham Cultural Arts Museum shattered into one-thousand-and-one pieces, each one glittering brightly as they fluttered to the floor. And for a moment, there was silence. And then there was not.
"Charge!!!"
Yelled our spunky Harlequin, leading her men into battle. There were about six of them, each armed with semi automatic shotguns - they insisted on that as their signature weapons - and thin domino masks that matched their current boss.
It was a charged assault, though it didn't need to be considering the museum security were barely equipped with anything more than a handgun and a taser. Still, one of her goons managed to get himself shot in the thigh, another tasered, and another one in a headlock. Tragic.
"Can't you knuckleheads get it together? Your crampin' my style!"
Not that she particularly had a style, and if she had, she'd have cramped it herself. Maybe cramping
was
her style?
"Great job Harles, so in love with the idea of goin' solo, you shoulda just called Red and Kitty."
She groaned to herself, swinging her mallet brutishly and knocking a guard clean onto his back.
Still, she could salvage this, surely. She might be two and a half men down, but she was still Harley Quinn! The most fearsome of Batman's female foes! (Just don't try to confirm that with any of his other female foes. Or his male ones. A Lot of backstabbing in the criminal underworld.) She brought her mallet back around for another swing, taking another guard out of action by busting his nose and lip. It was super effective.
"Whoever said crime doesn't pay sure never had one of these bad boys!"
played by Harley Quinn
36 posts
Suddenly, the lights had all been cut off, and the people inside were surrounded by darkness, save for the small glimpses of light provided by the street lights outside.
"Tax payer's dimes hard at work I see."
Harley commented, squinting her eyes to try and sharpen up the shadowy figures before her. Who was friend, and who was foe?
Swinging her mallet in the motion of an uppercut, Harley unknowingly sent one of her men flying into a sculpture, knocking him out cold.
"Take that!"
She yelled triumphantly. One by one, however, she began hearing strange grunts from different individuals, before hearing their bodies hitting the floor.
"I should've listened to Red and eaten more carrots."
It was then that Harley heard a voice echo throughout the open venue, causing her to be on her guard. Whoever it was didn't sound too polite.
"I ain't in the mood to play hide and seek bonehead, so quit hiding like a big baby!"
She backed up slightly, clutching her mallet in both hands and holding it close to her, ready to strike at the drop of a pin.
"Or is that how you do gooders work now? Tip toeing through the shadows?"
For all she knew, they could have been a villain; She'd pissed off alot of people. But correctly addressing their alignment was the least of her concerns right this moment.
"Or are you too scared to face a girl head on?"
He watched her attack one of her own men this brought a grin to Jason face it seemed things never changed. Harley was still dense as ever, it almost made Red Hood feel bad due to how easy this would be for him. If only it was the Joker that stood before him instead of her at least things would've been a lot more interesting to say the least. She continued to speak out towards him but Red Hood remained quiet, silence was more dangerous than talking.
I found myself wanting to pull the trigger, Funny she not trying to kill me. I mean she may be but it almost seems her hearts not in it. Or her aim is just Crap

With no lights he was free to move as he pleased, and with her on edge it was easy to spot her. Thanks to his Detective Mode (Also known as Detective Vision) is one of his most useful gadgets, as it allows him to see people through walls and detect usable and useful objects in the environment. So he awaited for her back to turn for him to swoop down from his position, Red hood attempted to grasp her by the neck. If hit the pain would've held unpleasant warmth to his grasp, eating at her throat. The force was just enough for her to breath slow through his grasp.
"Well Well Well. Been a while Doctor."

The entire outlook of Red Hood screamed someone she would easily recognize could it be Joker? HIs first alias was this entire outlook but why would her Mr. J attack her? No this was someone else someone more vicious and adapting.
"We need to talk.."

played by Harley Quinn
36 posts
Harley waited for a moment, giving her adversary a chance to step out into the proverbial light and reveal himself. Though, as it seemed, he didn't have the courage to face her head on. Instead he swiftly took her by the throat, causing her to drop her mallet from shock and cling to his wrist, aiming to pry him off her.
"Hey, hands off the merchandise!"
She yelled as she struggled against him, trying to make out his figure in the darkness. Certainly not one she instantly recognised, at least. And that helmet, so peculiar. Surely she would recognise a helmet like that. On the plus side, it wasn't any of the bat broods.
"Sorry pal, but if you want to talk, you gotta schedule an appointment!"
She hissed, throwing up her legs and pressing her feet against his chest, kicking off him and launching off into a backflip, escaping his grasp. Still, with her mallet laying at his feet, there wasn't much she could do from this position. Well, there was one thing.
"So,"
She began, rubbing her neck lightly.
"What was it you wanted to talk about, chrome dome?"

Red Hood stood firm as Quinn kicked herself away from him, it seemed she couldn't tell from his appearance who he was, which was surprising to say the least. He decided to humor her, well that was until one of her loyal thugs attempted to grab Jason from behind. With little to no effort he exposed effectiveness of his own elbow which targeted the center nose of the masked thug. Breaking his nose upon contact which sent the man into a state of shock and stress, but Jason didn't give the man enough time to cope with the pain as he quickly wrapped his arm around the man's neck before putting a bullet through his chin. The bullet clug itself into the man's brain killing him instantly! His body dropped hard on the ground as Red Hood's boot stepped on guys head as he now looked back over to Harley who would've been confused as ever. But like earlier he was going to humor her, he placed his gun back into its holster before placing his hands on his helmet. With he removed the red dome over his head over to reveal to Harley who he was. At first glance he looked like any other masked thug but if she paid close attention to the smallest details she would realize who stood before her the lower left of his neck he held a J brand.

~It's about the next level. Smarter, faster, hotter, more in tune with changing times and changing crimes. But mostly... I guess this is about the revenge of one crazy man in a mask... on another crazy man in a mask. Heh. Ironic I know~


The hard dome of the helmet slammed on the pavement below "It was hard to breathe in that thing." His green eyes now found its way back over to Halrey as he could now over hear the sirens the GCPD were on the way which meant, they had to leave this place. So instantly he drew his gun once again and pointed in the direction of her left leg and placed his finger on the trigger. "You can either walk or get dragged take your pick Quinn." He really hoped she picked dragged but Jason would've loved pulling the trigger, it took every fiber within his body to not.

He positioned his gun in the direction he wanted her to go if she chose to walk. He would lead them outback and once they reached what seemed to be a dead in the walls of the alley way soon opened revealing a secret exit. Now all that was left was a dark tunnel would Quinn take her chances? Or would she follow through, there was scenarios for any and all situations. But if she chose the tunnel Red Hood who wasn't too far behind her turned on the lights as the exit now shut behind him. He would've holstered his gun he didn't need it anymore he knew and she knew he could defend himself quite well.

"Don't look so down Quinn. For the name I'll make sure you die gloriously…"

He said referring to her giving him the name he used now.

played by Harley Quinn
36 posts
Apparently even after Jason's brutal takedown of her thugs, one still remained with enough vigour to take another stab at him - quite literally, too. She cringed slightly as the man was quickly taken care of, though not so bothered as to defend him. He was from craigslist, after all, which added to the absurdity of his sudden spurt of loyalty. But hey, in Gotham City you can be anything you want, even crazy.
She watched closely as he removed his helmet, but with the lights still off it wasn't very easy to make out his face, let alone small distinguishable features. He must have been pretty confident to reveal his face however, whomever he was. Dangerous business in a city like this. Basically asking for trouble, especially after killing a girls hired guns.
"Eep!"
She yelped as he pointed the gun at her leg, presenting her with an ultimatum. She could hear the sound of sirens in the distance, and it was clear this was game over..
"Alright alright, I know when I'm licked. Take me to Arkham copper."
She grunted, expecting that to be his agenda. However, he simply motioned for her to follow his direction.
Not fully understanding the situation, but also not being one to argue with the shooty end of a gun, she chose to obey. She let him direct her out of the museum, all the way to a dark tunnel, which she entered cautiously, the lights suddenly blaring. She could now see the man's face in full. It seemed strangely familiar, but she wasn't the sharpest tool on the best of days. Blunt force trauma was more her style anyhow.
"You brought me all the way over here just ta kill me? An they call me melodramatic! Listen tough guy, I don't know what game you're playin' here, but you better let me go before my Puddin' gets you!"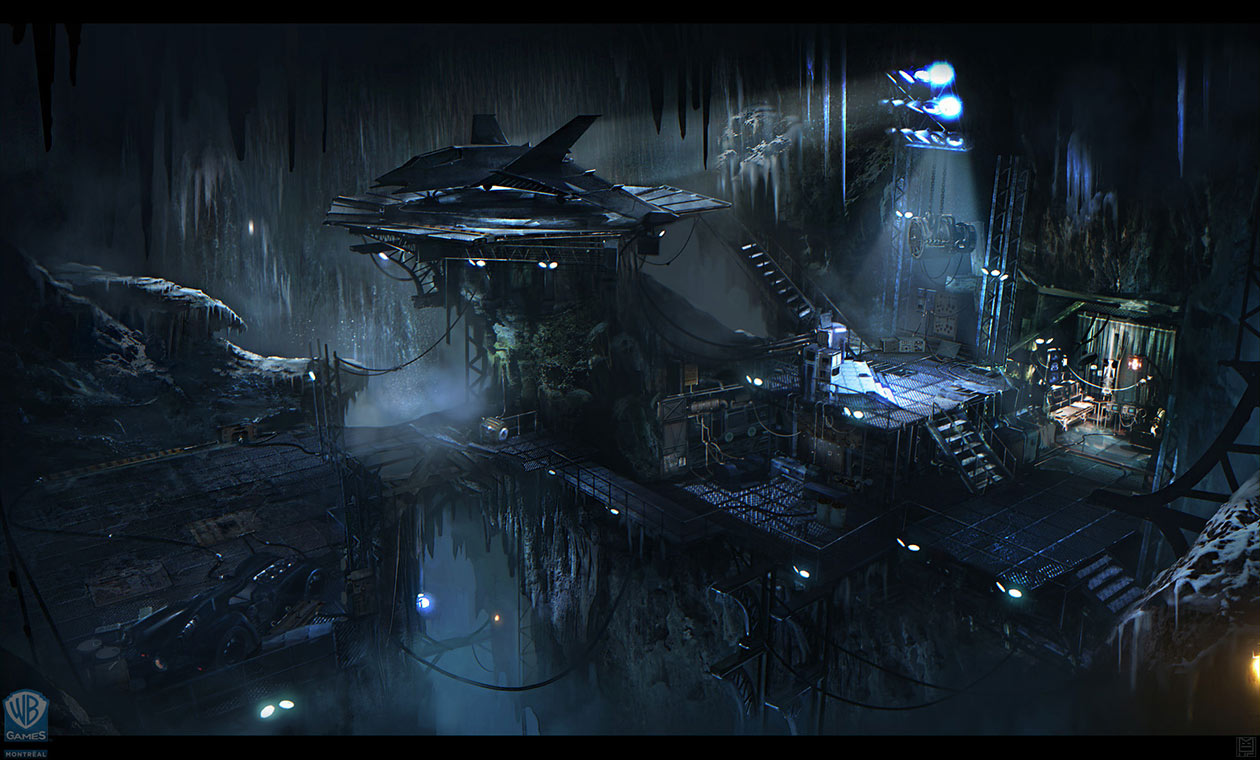 "You brought me all the way over here just ta kill me? An they call me melodramatic! Listen tough guy, I don't know what game you're playin' here, but you better let me go before my Puddin' gets you!"
"Don't tease me with a good time." With one final push he would've shoved Harley into what seemed to be a underground bunker more likes flickered within the bunker exposing what seemed to be thousands of files and gadgets. In this exact moment Halrey was now in the command center for his war against the criminal underworld of Gotham City. Jason's bunker is powered by a Hydrogen Generator, allowing its power source to be completely off the grid. The Bunker has a supercomputer in it that is more powerful than even the computer systems used by national intelligence agencies. This allows him to have around the clock global surveillance and information on all of his enemies and allies.
"Halreen Quinzel born in Canarsie, Brooklyn, New York, the oldest of four children and the only girl. It says here your interest in criminal psychology grew early in your childhood, and blossomed when you a man named Bernie Bash, who turned out to be troubled enough to commit murder as a way to prove his love for you. Despite his crime, you later broke into his house and stole a stuffed beaver from his father's taxidermy shop as a memento of you two relationship. Honor Student and a Gymnast. Yada Yada Yada.. attended Gotham University the works."
I'm here to make sure I can follow their movements, not get caught up in this imaginary nostalgia.

He tossed her own file towards her pictures of the old her now infront of her, "Now how does a girl like that turn into a raging bitch like this? Love? Hate? What would Berine think? Would he love the woman you've become? Maybe I'll have you ask him when I blast you into the next life." Jason now pointed his gun back towards her as he then said "Or maybe I'll have your lover now ask him. You see I'm a monster, a monster you help create and now your going to do it again Quinn. This Haul of yours or whatever left of it is mine now."
played by Harley Quinn
36 posts
"Geewilikers Batman."
Harley Quinn scoffed upon spying his bunker filled to the brim with thousands of files and gadgets, clearly this man's main base of operations. She had to admit, there was something pretty impressive about it, but Mr. J had better.
"Ha! Some case file you got there, half a' that ain't even true."
Who exactly was his source, Mad Hatter? Though, it was likely for the better that his information on her was incorrect, she didn't need some shmendrik with a gun fetish knowing all of her business. At least he'd gotten the gymnast part correct.
She quirked a brow as the file was thrown to her, giving it a good eyeing over.
"No fair! All these pictures are of my bad side!"
She whined, though feeling a slight twinge of sadness as she did so. One of the pictures happened to be of her with Guy, the only guy she'd ever loved. Before the Joker, that was.
Is that who this Bernie fellow was? Did this mystery man think Guy was named Bernie? Wasn't Bernie the name of the guy who gave her a funny look that one time when her Ma made her attend Synagogue at age eight because she stuck her gum under one of the seats? How'd this guy know about that?!
"Look buddy, I don't know what typa checmical kool aid you're sippin' on, but I don't want any part of it! You already cost me a big score tonight, Puddin' woulda loved that diamond covered hyena skull!"
She chastised, clearly cross and not really understanding the severity of the situation.
"Look buddy, I don't know what typa checmical kool aid you're sippin' on, but I don't want any part of it! You already cost me a big score tonight, Puddin' woulda loved that diamond covered hyena skull!" She chastised, clearly cross and not really understanding the severity of the situation.

"You know should Quinn you are the that created me." Without another word he holstered his pistol and placed a hand on his chest the device soon scanned his finger tips before the whole chest of his suit collapsed on the ground with a hard thud. He turned to slightly to show her the scar she and Joker engraved into his skin the large handprint brand that stretched over his shoulder. This would've brought her back into the abandoned Arkham wing, the only person with this scar was Jason. The old Boy wonder before being replaced by Tim Drake, Jason entire life was being watched by Joker it was the maniac clown who caused his parents death as well as bringing him into relations with Batman. "Don't be shy Harleen it's only me.

Then~

Deep beneath Arkham Asylum.~

Tied to a chair and beaten was Jason above him stood Quinn beating the living life out of him, he was surrounded by thousands of pictures of Batman and his "new Robin" Jason could still remember the torture they placed him under the months the year of punishment only to be killed by the likes of that madman. A big part of him wanted to kill Quinn he wanted to end her right here placing a bullet into her skull but.. If he did that he would have no one to aid him in what he was planning, secretly he needed her. In a twisted way she was like his guardian the only reason why he wouldn't kill her was because she kept him fed. A part of Harleen was still deep inside that shell of a psychic bitch.

~Now~

If Harleen indeed attempt to trace her hand over the scar to see if it was really him, Jason would shift his green eyes over to her. "Were going to work together just like old times, Welcome to your new home." He started to walk ahead of her he didn't hold his guns out anymore it left him open if she dared attempted to attack him. "You see Halreen I'm planning to to take down every low life in Gotham. And your going to help me."

played by Harley Quinn
36 posts
She quirked her brow once more as he mentioned her creating him. Who was she, Toyman? But when he revealed his bare chest the proof was undeniable. Suddenly the pieces clicked into place, and the memories of her extra curricular work in the bowels of Arkham came flooding back. And if he really was who he claimed to be; The odds were
not
in her favour. She took a step back, clearly on edge.
Well this was a whole bunch of mess. And the worst part? The whole reason she was here was because she was trying to surprise Joker with an apology gift of sorts; He didn't even know she was in this mess! And even if he did, she wasn't sure whom he'd be angrier at; Jason, or herself.
She hesitated for a moment as he instructed her that she'd be working for him now. Apparently he had a plan, to take down every lowlife in Gotham, which wasn't exactly the worst idea. Half of them hated her anyway. Just so long as he didn't try going after her Puddin'. Still, for now, like a chameleon she attempted to play the situation to her favour.
"S-sure thing Mister-- Uh, what exactly should I call you?"
"S-sure thing Mister-- Uh, what exactly should I call you?"
Just as she said Mister Jason immediately raced over to her and gripped her chest and shoved her hard against the wall with intense anger, she would've felt a small pinch hitting her side. His eyes glared as he did not want her to finish that one statement. Sure he hated Harley but he despised Joker and he would never wish to be called by the name she called him. But this is what he believed he was so driven by anger that she could feel the tension pouring off his body. Thoughts of the abandoned Arkham wing started to flash within his mind the pain and the torture he placed him under was still mentally implanted inside his head. "Never..Call me that you understand me?!" If she was still in his grasp he would release her before holding his head moving away from her and now his supercomputer.
Now if Harley would've finished her statement after on what to call him, he tossed his gun on the desk as he pressed a single key on the board.The large screen of the Supercomputer would turn on as images of his next suit was now showing up as an Icon. The suit donned a militaristic version of the Batsuit that mocked Batman's appearance. The inside of his helmet and the tactical visor that covered it gave him a heads up display of troops throughout Gotham and the ears relayed his commands to them. The visor also appeared to garble his voice as his main means to conceal his identity. By using the Arkham symbol on his chest plate, he inflicted psychological warfare on Batman, which reminded him of the past Arkham events.
"I think you know the name better than mine.. Gotham doesn't need a Batman they need the Arkham Knight. And I'm going to give it to them. No one will be safe"
He now turned back to Harley he knew he couldn't trust her 100% but hell he couldn't trust anyone that much. "You have a choice to either be a Prisoner or have freedom. If you if so much breath any of this information to anyone. I'll make sure you won't ever get another chance fantasize about him because if you do. I'll put a bullet right inside your head. I'll be watching you Quinn believe me.."
played by Harley Quinn
36 posts
Harley watched as he was rough with her, throwing her into a wall made her hot, she bit her lip as she giggled. She enjoyed the play, she would watch as he set the gun on the table, looking to his super suit. Or shall we call Anti-Supersuit. She enjoyed it way more that her captor was too in pain, not physical but mental. She'd giggle to him as she spoke her words.

"You know, Mister, if you become one with the memories you'll be much better off.How else do ya think I got this far?"

She licked her lipstick stained lips as she looked to him laughing as she knew her words struck him hard.

"Everyone in Arkham knows Mental pain is what drives you. You need to accept it not reject it,Mister Bad Batty."

When she heard his question she bursted out laughing as he tried to threaten her. It made her think, does she want to test him, or Join him? She began to speak to herself

"Hunny you know it might be fun to join. Hahaha." "But Harley killing him might be fun!?!"

She giggles as she walks towards him, her hips swaying as she walks, she would gently slip her arms around his shoulders, turning his head from the supercomputer seductively, and made him face her.

"We've talked it over, I'm in Bad Batty."

She giggled and licked his lips.

Jason was in his own thoughts as he walked away from her, in some sick and twisted way she brought up a point about his memories. The thing about it was Jason had been one with his memories, it's what made him whole. From the beginning even before Joker his life molded him to who he was today Joker was only the person who set of the fuse. He lit the match and created the Red Hood. Jason was only Red Hood because it made him whole, it gave him purpose and now it was going to send a message. He's going to do what Bruce couldn't he planned on making Gotham his warzone. His uptpoida he planned on stopping the death and careless acts of metahumans.


The way Bruce ran things seemed to only made things worse, he respected Bruce but his lack of killing is what got him killed in the first place. White knuckles now formed on Jason's fist from him clenching his fist too hard. He felt unwanted hands upon his body he flinched the moment her warms hands touched against his cheeks. It caused him to grit his teeth from effort to remain silent, his hunched form exuded an animosity was like acid -burning, slicing, potent. His face was red with suppressed rage. Everytime he looked at her he saw him he saw the man who made him this way he saw death…

"Everyone in Arkham knows Mental pain is what drives you. You need to accept it not reject it,Mister Bad Batty."

Her voice slisthered in Jason's ear his eyes finding its way to hers as she spoke about Arkham, the very place Batman failed him. The same place Red Hood was born, she brought up one of the most disliked places in Jason mind. If she wasn't careful Jason would've pulled out a spare gun which he attempted to tuck on her stomach.

"Touch me again and I'll end you Harleen."

Then the words of her joining his crusade hit his ears this brought a smile to his face as he nodded pointing over to the Supercomputer. "Great.. Because we have work to do. Now set up show Quinn." Before she could even get another word he would've ripped off her collar which belonged to her pudding. "You dont answer to him in here. You answer to me."

played by
1 posts
She places her hands on where the collar was and anger dances widely across her blue eyes and she attempts to hold back her anger but it slips anyways

"What you gonna give me one'a those too or ya gonna leave my neck bear?"

she says with anger and sarcasm laced in her words. Fully being aware that there will be some kind of reaction, knowing that she had angered him already and she wanted to see how far she could push him before kicking him off of the edge of an already unsteady cliff.


"So whatcha wanna be called if not mister J? Could do mister Bird, how ya like that one?"

she chuckles at her own joke and then turns her back to him and lifting some pieces of paper up and looking at them while silently chuckling.

"Ya know ya shouldn't hold on ta those feelin's"

she turns back towards him and leans against the cabinet of paper and files


"I could help ya with that, since I have ta work with you would be nice ta know that ya not randomly gonna kill cuz'a one of your flashbacks."

She mumbles the last part not sure if he could hear her words but she thinks that he didn't understand her words. If he did understand her words, she wouldn't know how he was going to react, but seeing that he needs her she would be fairly positive that he might beat to the brink of death, but still alive.


"Why you need me anyways? I mean I know im smart, resourceful, intelligent, beautiful, kind, well you get the point, but I don't know if you know, maybe ya do, but lots of people don't really like me at the moment, why not get someone else that's more liked?"

she questions him being more curious than angry at this point.
1 User(s) are reading this topic (1 Guests and 0 Anonymous Users)
0 Members:
Skinned World's Finest by
Thisbe
of RPG-Directory