World's Finest
A DC Rebirth RP
World's Finest is a DC Comic Rebirth Site, we take place after the events of Dark Night Metal but instead of having Batman and Tim Drake returning. The two never returned from their events which happened in their solo comic, with Bruce gone Gotham is now in the hands of the his few apprentices one being his son Damain Wayne. And with Tim vanishing the Titans the world knew has ceased to exist leaving chaos to file the streets of not only Gotham but for cities around the world. Here we are Earth 7 of Prime Earth, Prime Earth was formed by the temporal merging of the disparate DC, Vertigo and WildStorm universes.
Most Wanted
1/12/18 Where now opened!
3/1/18 Come join the Fun!
Leader vs Team
, UNCANNY CONVERGENCE #4
played by Robin, Damian al Ghul, Ibn al Xu'ffasch, Gray Son, Son of Batman, Son of the Demon
56 posts
Robin Series
He
Straight
13
Inside the Titan's Jet held the entire team excluding Arsenal, Robin believed that he could trust Arsenal with such a mission. He only hoped that he didn't regret it which he was slowly doing thus the reason to why he asked Huntress to tag along with him. Hopefully, the two of them would be able to even each other out and get the job done. While Robin does his job here and leads his team into what seemed to be another location. Cyborg was able to figure out where was the chip manufactured by Robin himself decided him and his "Team" needed to speak.

So he faked another location just for him and the rest of the team to be alone, as the Titan Jet soared in the air it would soon lower down on a building. To the rest of the Team, this would've been a whole mile away from where they were supposed to go. Would anyone ask questions? Would anyone wonder or even pounder to why Robin stopped? Flipping the gears in the Jet Robin would open the hover and step outside his hands behind his back as he looked out to the night sky of Metropolis. Unlike Gotham, Metropolis actually looked beautiful Gotham was too dark and realist. That's the reason to why Damian loved it so much he felt Metropolis was just as scary but was too afraid to show it's true self.

It was either that or because they had a six-foot alien watching over them. He wondered what the world would be like if Superman nor his father had been around, would the age of Heroes die? Or would it still find its way to a salvation? He waited for the rest of the Team to come outside with his back facing him he would've begun speaking on what was on his mind.

"We all need to talk.. About the future. And what we must do if the worse case happens."

played by Kory Anders
45 posts
New Earth - Prime Earth
Kory
She/Her
Heterosexual
Unknown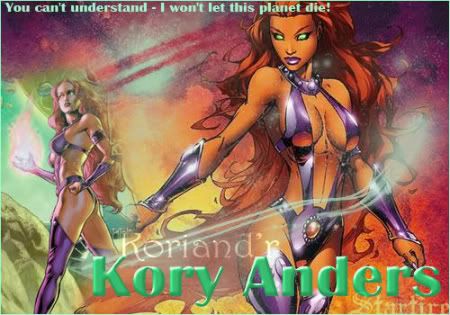 It had been a long night. Just as it had been a long day before and the night before that. It was questionable if Starfire had much rest, but the tamaranean hardly could tell if she was feeling restless. Though, when they had a boarded the T Jet, it was already very quiet amongst the group and travelling from one side to the other side of the country was going to take a couple hours… At least. So Starfire had taken the opportunity to retire to where there were simple bunk beds somewhere in the jet and laid down. Relaxed and eventually took a nap. To help keep her going for whatever the mission was tonight or wherever Robin was taking them. Starfire hadn't entirely known where they were supposed to go, to really know if it was faked. She just trusted in whatever Robin had planned… There was purpose behind it and she would go along with it. Even if for a moment she had taken to a little slumber in the back of the jet. Given just how quiet the jet was after how chaotic it was back at the Tower, there was probably anything she missed and actually a little relaxing after everything. Not that Starfire hadn't left peacefully, the tamaranean surely had very much tried to bring the peace in the tower and move forward. Fighting amongst themselves, just wasn't what she wanted. Not in the slightest. With everything that was exposed, there was enough attacking them, they really needed each other than anything… Least how Starfire saw it. So she was along for the ride… Where ever Robin was leading. A sleep. Relaxing… Possibly even fell into a dream. A little warmer and sunnier. Feeling it on her golden cheeks, half curled into the pillow in the midst of her tousled red hair. Her body was mildly sore, more just muscle aches from the long day and night, but nothing serious. Though she probably looked like she'd been in a few battles. With still covered in dirt and ash. Covering varies parts of her suit and her exposed skin. There be time later for a shower, surely… As the tamaranean half dreamed of a shower. The warm water washing so many things away and a sweet scent she could almost capture. As she half rattled trying to guess it… Just upon reaching the answer. The Jet had stopped and woke Starfire up.

Slowly coming to in a daze and sitting up she half hit her head on the bunk above. Bringing her hand up to rub it and half steady her head. Before she same to and soon very much awake. Hearing and seeing as the team moved about to leave the T jet. Swinging her legs off the bed, Starfire got to her feet and soon wasn't far behind following the team out of the jet. Exiting and soon Starfire stepped outside. Her green eyes looked around. She hadn't paid that close attention where they were suppose to go nor why, but it was a least clear to her. They were in Metropolis. She'd occasionally visited and often flown through it. Given it's location… It was quite a nice city. Brighter than Gotham, yes, but most cities were. Gotham was like the city you would choose if one likes living in a cave… Sensually. Of course, Starfire did respect that it was true itself for what it is. It didn't try to pretend and the darkness was real, but yes it was gloomy. Starfire preferred a more frankly warmer setting. Brighter… Hmmm, as Starfire floated shortly behind until Robin would suddenly stop. Stopping them all. Starfire looked up. To the starry sky, it sure looked lovely too. Even the moon was out in its glory here. Her eyes traced particular stars. Many of which she knew of well enough. They were quite beautiful. As her eyes soon came back down to Earth. Looking between the team until landing on Robin as he spoke. Wanting to talk futures and negative outcomes. Both of which Starfire didn't particularly think about. She'd more be thinking about the present and aiming for peace. Though she was also one to listen and be inclusive. As she looked to M'gann as she spoke… Speaking of possible military action and fighting… Starfire shook her head, she was not here to look for a battle… Not unless that was the last resort. Especially if meant staying on this planet, which yes she did, but she'd rather it by peace not by blood. Her kind wasn't already the most welcomed and she'd rather not make that worse. She really was the kind that simply wanted to come in peace. Be able to live among friends and help defend the planet. All good intentions.



"I'd prefer to aim for peace first before planning any battles with the government. We are superheroes. We are Titans. We are also people, capable of mistakes… Of course those can be costly, but what footage is out there. Is out there.. I'd suggest owning up to that and reaching out to the public. When it is time to do so. If we have the support of the public, that is quite force in itself, which if you haven't… You should read the fan mail that is sent… A lot of them just are thankful that we are here and giving them hope… I'd like to mend any broken bridges with the public and try to work for something civil with the government before fighting them. I do very much want to stay here, but with as much peace as possible. As I'd like to continue being able to defend and save the world… Though I do want to find whoever was behind this and show them little to no mercy."



Starfire spoke forth and added in. Simply looking for more peaceful ways to deal with particularly the government. Suggesting if not now, soon after they would deal with tracking down the person behind this all. Which Starfire was particularly keen to focus on, the present, but she was also keen to mend any bridges with the general public given what was released. Which would have caused a wave of various reactions… Maybe generally now negative towards the titans, but Starfire was sure there was reasons to least look for closure. Forgiveness. Understanding. The mistakes had happened, there was no changing that, but they could move forward as anyone should that made a mistake… Of course these were costly and hardly, but still mistakes were gonna happen, least… It didn't erase all the good they also did nor all the good Starfire still wanted to give. On top living in this world and calling it home. It be a lot easier to live in more harmony than in war, but these were just her opinions… Her emotions on the matter. She wanted… She generally strived for more positive and right now with all the chaotic. Even the more reasons to do so. Of course, Starfire was still up to following Robin in anything or least almost anything. Hopefully towards more peace, but she always up to fight when called upon… Particularly who ever was behind this whole disaster.

played by Robin, Damian al Ghul, Ibn al Xu'ffasch, Gray Son, Son of Batman, Son of the Demon
56 posts
Robin Series
He
Straight
13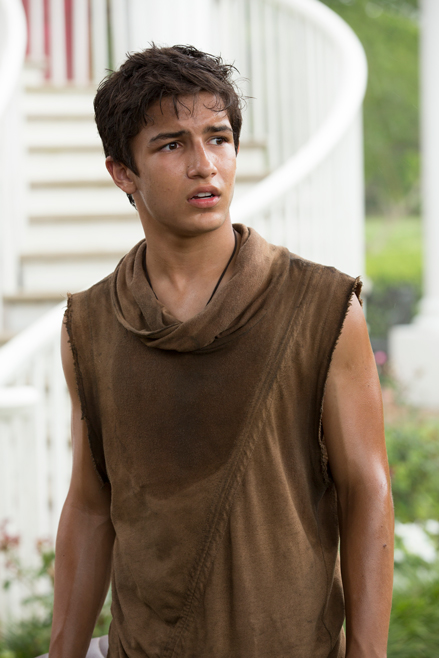 The black before them had a velvet quality, like the air had been thickened somehow. Without an upwards glance Robin knew it was star speckled and cloudless. He glanced downward to the path he knew to be rocky by the feel under his stolen plimsoles to find that twilight was over, other than admiring the constellations above, his eyes were useless until the dawn.

Robin would've turned and listened to both M'gann's and Kory's reaction to his statement it seemed M'gann was more on board with Robins idea than Starfire. It's true causing a war with the government isn't something to do lightly but if it has to be done than Robin would have no choice in the matter. He nodded in agreement to M'gann she got the memo, this Nobody character was really getting under his skin. It seemed like pulling teeth for Damian to not explode he was angry, angry for being steps ahead of this guy. He didn't even know the man's name but was forced to retreat with the rest of the Titans. He felt as if the weight of the world was on his shoulders especially with Ra's being around watching him.

Being the son of the Demon doesn't always have it's high perks, his eyes now gazed upon the team as he started to say his peace.

"Star I don't do this job to be liked. My father done his job with thousands of GCPD men hunting him until his death. If I have to follow the shoes of my father, the Batman then I will.. No one and I mean it no one will stop us from doing our job our duty. Im not here to read my fan mail or whatever it is they write. Were either all in on this or all out. But I know ones things for sure if we are not 100% on the same page he will take us out."

1 User(s) are reading this topic (1 Guests and 0 Anonymous Users)
0 Members:
Skinned World's Finest by
Thisbe
of RPG-Directory