World's Finest
A DC Rebirth RP
World's Finest is a DC Comic Rebirth Site, we take place after the events of Dark Night Metal but instead of having Batman and Tim Drake returning. The two never returned from their events which happened in their solo comic, with Bruce gone Gotham is now in the hands of the his few apprentices one being his son Damain Wayne. And with Tim vanishing the Titans the world knew has ceased to exist leaving chaos to file the streets of not only Gotham but for cities around the world. Here we are Earth 7 of Prime Earth, Prime Earth was formed by the temporal merging of the disparate DC, Vertigo and WildStorm universes.
Most Wanted
1/12/18 Where now opened!
3/1/18 Come join the Fun!
played by Harley Quinn
36 posts
Walking into a clothing store still in the clothes she left Gotham in with Jason, she walks around looking at the clothes than at the prices like any other person would do who looked like they were going to by the clothing not steal some of it. "Hey ya mind if I uh try this stuff on?" she asks one of the clerks with the most charming face she could put on, which wasn't hard due to the fact that she was actually happy to get out of Gotham even for a little bit.

"Right this way ma'am" the clerk said politely to her walking her towards the fitting rooms and after about 10 minutes of trying things on, she walked out of the fitting room after she was sure that the clerk had forgotten about her, which she was right about but instead of just walking out of the store and setting alarms off, she walked up to one of the clerks that looked like it was his first job ever and she walked up to the kid smiling.

"I think I'd like ta buy these please." she says politely to the kid who looked like he was about to pee his pants "uh-uh ye-yes I can do that for you, ma'am." The kid said stuttering and she looked at the kid and smiled and then put her finger under the kid's chin "hey ya don't have ta be nervous, first-day jitters huh? ya want me ta help? I worked at this one clothing store back home, they called me the best little checker there was."
She winks at the kid lying through her teeth but still sold the lie as if it was the truth "I-I don't know if you're-" she cut him off by placing her finger over the kid's lips. "Shhhh, it'll be our little secret"

She says walking behind the counter and "scanning" the clothing tags and then she hits a couple keys on the keyboard making the computer crash "oh no, this must be a system I'm not used ta, I'm sorry hun, I might have just ruined ya system." she says pretending to be upset about the system crashing and as the kid left to get his manager she grabbed the clothes and some sunglasses and then walked out of the store after putting the clothes in a bag. "the kid will be fine, he can't be blamed fa this forever."she says talking to herself out loud while putting the sunglasses on her face.
played by Blue Beetle
10 posts
[/color]While a field trip with some of his classmates the scarab begins to beep alerting him of petty crime in progress. Not really something the beetle needs to handle more suited for store security, besides this field trip was a bit of vacation for him that was much needed. Paco and Brenda tag along with him going to some of the stores instead of the actually sites they were suppose go with the rest of the group. "Aye Jaime so what's it like not turning Blue at moments notices?" he pats him on the back pushing him a bit forward. "Well kinda miss it to be honest but strangely I'm okay with it." Jaime Reyes brain waves are suggesting you are not okay with it. "Yes I am." Jaime Reyes I detect that's lie as well. "I'm not lying!" he stops walking for a moment seeing both his friends looking Jaime. "Battling your inner demons again home." Jaime just shrugs off the question. "Demon Paco one's enough already." The trio walk into a clothing seeing a young male employee explaining to police what happened earlier. Brenda gets infront of the two boys gesturing them to turn around. "Well there won't be much here now guys besides paco when can getcha you cute outfit later." Paco just scoffs at her insult as they begin to look for other place to shop at. As the stroll out n' about Jaime's eye catches something or in this case someone. A Blondie with some shades covering somewhat of her face. "Checking out the blonde Jaime?" he just nods no as the two keeping. "Scarab run facial recognition of the woman I'm starting at and any footage of what happen in that store we just left." Jaime Reyes result came back the individual you are referring to is infamous criminal Harley Quinn. Suggested tactic neutralize enemy at all cost. "And risk having my identity known to everyone as the Blue Beetle. Got another tactic more discreet options now please." The scarab beeps continuously coming up with covert tactics. Suggestion Jaime Reyes wait for opening and take enemy into secluded area then neutralize. "First part smart second part well just leave that up to me."
[color=blue]

[align=center]

[/align]
played by Harley Quinn
36 posts
As she walks around trying to kill some time and not get caught by anyone. She stopped walking and looked around for a moment and then saw a young kid staring at her and she smirks and then lowers her new sunglasses
"Take'a picture kid, it'll last longer!"
she says loud enough for him to hear across the street and then she starts walking away from the kid and she turns the corner.
'Why was that kid lookin' at us?'
'Guess he liked what he was lookin' at, who wouldn't?'
'What-if he saw us walkin' outta the store? We should get back to Jason, he can, can do whatever he does now.'
She talks to herself in her head as she walks away from the kid and after turning the corner she went into a mob of people and went into a restaurant.
"Can I use ya bathroom, just had'a huge bottle'a water, gotta pee soooooo bad."
She says while danicing on her toes to convince the hostess to let her use the bathroom, and after being granted and shown where it was after about 10 minutes she walks out in a different outfit and instead of her hair in her usual pigtails, it's down and covered by a snap-back.
'You're overreacting, the kid just liked what he saw, this is too much.'
'Just'a precaution, if he did know who we are, this'll throw him off'a his game long enough ta let us get back.'
'And if he knows who we are, and figures out we changed before we do get back to Jason?'
'Well then I dunno yet, still workin' that part out, aren't you supposed ta be workin' that out?'
She snarls at herself inside her head and walks out of the restaurant with a changing look on her face; going from happy, scared, confused, and finally angry.
'You shouldn't have let that kid see you, you shouldn't have stolen those clothes.'
'We needed something, and we ain't got no money on us, what else were we supposed'ta do? And don't say steal, we're borrowin' without permission.'
'That's still stealin, just worded differently.'
She walked in the center of a bunch of people keeping her head down and her face is mostly hidden by the bill of the hat, but if looked at from an angle you could clearly see her face and the changing expressions it holds.
(only things said out loud are red)
played by Blue Beetle
10 posts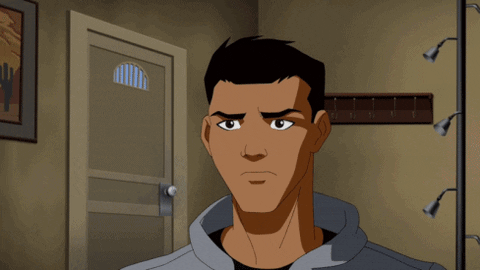 "Huh…Oh I wasn't checking you out I was just uhh." Jaime begins to blush at the sight of her, but she walks away before he could even finish his sentence. He stays back for a bit before he's out of sight. "Scarab keep lock on target don't lose sight of target I'll figure a way out on how to corner her." Understood Jaime Reyes proceed with caution she is to be considered dangerous even unarmed, might I add you are putting yourself at risk not being in battle form. "Just keep a lock on her."
Jaime gets a text alert from Paco asking him where he's at, he simply replies on beetle work. He begins to follow her through a crowd try to keep sight of her but loses sight of her. Jaime Reyes should I leave this work up to police I can send an anonymous tip about the infamous Harley quinn. "No I can handle this I mean we can handle this. Just tell me where the last place she was spotted was." Analyzing…last known footage of her was seen entering a restaurant. I presume she is in disguise. "Noted I'll be looking out for anything out of the ordinary."
To Jaime's luck he spots a girl wearing snapback. The scarab without being told starts to scan for possibly facial recognition. Jaime Reyes results indicate a 67% chance of said suspect being Harley quinn. "I'll take that chance of it being her." He begins to make his way toward her trying to come up with a way on how to corner, but he simply remembers what ted told him in case of scenarios like this just let the person know what you can do it worked for batman.
So that's just what he did he begins pick up the pace in his feet grabbing her by her bicep and pulling her close to him as he whisper in her ear. "I'm the blue beetle now think twice before trying anything lets handle this in a mature way." Funny coming from a kid who's still in high school and doesn't know what he wants to do besides the hero gig. He brings into a local diner as the two sit down and begin to talk things out instead of fighting in some gritty alley. "okay tell why'd you run away from me, nothing even got blown up no caravan of police car coming down the street, so what's the reason for running from me?"
played by Harley Quinn
36 posts
Her arm gets grabbed and her first instinct is to punch but just she raised her fist to punch whoever had a grip on her arm, she noticed that it wasn't gloved and it was smaller than other hero's and well just any adult's hand. And she turned to see the kid that was staring at her earlier.
She listens to the kid's words and thinks it over
"I dunno who ya are kiddo, but I ain't givin you nuthin' I don't care if ya the flippin le presidante himself"
she says coldly to the kid but then gets dragged and she reluctantly follows him into the diner.
"It ain't runnin' if ya don't run, and I ain't here for some colored bug or fa hurtin"
she leans back in the booth with the snap-back still covering her face for the most part to keep others from knowing who she was.
"hey I got'a, uh call it'a ultimatum"
she says using Jason's own words from when he had kidnapped her.
"You run off like the good lil bug boy ya are, and I won't do nuthin to no one, and everyone lives happily evea afta, or…"
she leans forward and she lifts the hat off of her head so she can look him directly in his eyes with her piercing blues ones
"or you get left somewhere, beaten within an inch of ya life left in ya, and all bets are off."
She says harshly hoping that he chooses the first option so she didn't have to hurt the kid, who was trying to avoid a physical confrontation with her.
'The last thing we need is some blue pest following us around cuz he's worried, just kill him, and tell Jason that someone got ketchup on us.'
'Like Jason would believe that, he's smarter than that.'
'Worth'a try, beats havin' the kid know why we're here in the first place, not that he'd probably disagree'
'We ain't a hero, this ain't hero work, kid's a goody-two-shoes probably'
"shut your cake-holes, let the kid talk…"
she says unknowing she said it out loud but it wasn't loud enough for really anyone else to hear just her and the kid.
"besides, I don't even know who ya are, besides some pest, I don't tell people nuthin' till I know their real name, not some bogus bug shit."
She says leaning back again and putting the hat back on and waiting for the kid's reaction to not only her threat, but to see if he'd tell her anything about himself before she told him anything about herself knowingly.
played by Blue Beetle
10 posts
Jaime Reyes detecting heart rate increasing from subject Harley, suggested tactic take target into secluded area then neutralize. "You know you might be right for once, oh sorry not talking to you unlike you I actually have someone talking back to me." Not some 'voice' in his head like the clown princess. Jaime somewhat at a crossroads not knowing whether to let her know his name or not for safety reasons, but he'll give her the benefit of the doubt. "Fine my names Jaime Reyes, okay now answer my question what are you doing here!?"
A waitress comes over to try and take their order but he just shoes her away. "No offence but san fran isn't exactly your turf or whatever." The scarab begins to beep continuously as everyone hears in the diner. Jaime Reyes this bantering is pointless just annihilate and go about your day besides like the Ted Kord said bigger fish to fry. "Sorry it's uh myyy…my phone can't seem to shut it off." The diners look at the pair with perplexed looks, Jaimie gets up and takes Harley with him as the two go into the alley. "Okay obviously people like us can't be anywhere public."
And right before Harley could get out a word the scarab begins to morph onto Jaimie's body cover him from the neck down. "Now that I let it have its way it'll probably quit nagging me to kill you if you play your cards right senorita." He chuckles for a moment, but out of nowhere he begins to lose control of the suit. The scarab transforms one both its hands into blades and starts attacking Harley. The scarab tries to hack and slash to get this nonsense over with. "SCARAB STOP IT!!" Jaimie tries gaining control of the suit once again but due to struggle of trying to gain back control cause a sudden spark of explosion knocking the two back. "ugh…this can't be happening again." Jaime had thought he and the scarab had mutual partnership, but that seems to be going out the way as it seems from things. He struggles to get up but every muscle aches in his body as if he just got done doing some intense workout.
played by Harley Quinn
36 posts
She snarls slightly at Jaime's taunt at the voices that are in her head.
"they are very real fa ya information, and they do talk back, lil more than they should but they do, pisses me off, and what am I doin here? Valid point this ain't my usual campin grounds, and I can't tell you why, Im not at liberty ta say why, and suga' that ain't my rule, I'd tell ya if it'd getcha outta my hair, and nice ta meetcha Jamie."
She walks with him not liking the fact they were going into an alley and she looks around the dark alley.
"Gee you thought people liked others talking bout who knows what?"
She says sarcastically as they walk further into the alley and she turns her back to Jamie and then starts turning when she hears him talking and then trips over trash when his hands turn into blades
"Hey hey, I-I ain't doin nuthin man, I don't even know why I'm here!"
she yells at Jaime/Scarab as she backs up fumbling through trash and she picks up a trashcan lid and holds it in front of herself in an attempt to shield herself and then pushes the lid into Jaime and then kicks him backwards, not hard enough to make him fall, but enough to put some distance between them.
"Ya can't even let'a girl shield herself before takin ya anger out?!"
she yells at him with anger flowing through her.
"All I did was take some clothes, no harm, you said it yourself kid, I didn't hurt no one."
She says grabbing a rusty crowbar and holding it firmly in her hand as she glares at him.
"Ya know at least my voices give people chances ta do something, seems yours has anger issues buggsy ole boy."
She says unaware that that was what made Scarab increasingly mad in the first place, when she was simply doing what she did best, and that was calling people names that was based on their names, but the way she liked them.
She spins the crowbar in her hand unsure how to fight the kid, but she also didn't want to get killed in the process.
"aye if I pissed ya off or somethin, let'a girl know will ya? Don't just try ta kill her"
'Just throw the towel in Harls, then he won't kill us, and he can continue on with small lil bug life and we can continue to finish Jason's plans and then get back to Gotham.'
'Who wouldda thought we'd miss that place.'
Her eyes dart around as the voices continue to talk and her eyes finally rest on Jaime.
"Why don't you be a good lil kid, and be a fly on the wall, huh? Why you gotta make a nice day, nasty and angry, and slimy like'a, a"
she shrugs
"like'a bug."
She chuckles at her joke, thinking that he wasn't in the mood for jokes, but when you're angry who is?
played by Blue Beetle
10 posts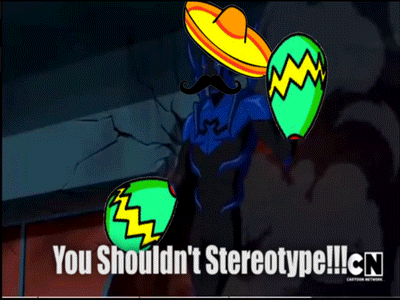 As he gets pushed back he takes a quick second to try to gain control of the suit, but unfortunately Harley goes for a crowbar. This only causes the scarab to see her as more of a danger, but as he hears another quip from her smart mouth, he has finally had enough both him and the scarab. "You shouldn't stereotype!!" Jaime then transforms both arms from blades to sonic blasters. Jaime Reyes it seems as if she still proving to be hostile I have also taken the liberty to access the sonic blasters for you. He hops back away from her right before taking aim at Harley.
"Never bring a crowbar to a gun fight, also scarab lower the angstrom levels we want to wound not ki..." But Jaime Reyes killing the Harley Quinn seems to have a better outcome. Regardless the scarab obeys Jaime's orders as it begins to charge up the blast just to have the weapon ready at fire. As the two stare each other down the tension just makes it worse and even if she tries to run away it'd be pointless by now given the fact that he's in his blue beetle form he would easily just apprehend her without any effort. But seems as if this whole matter went from a simple conversation to now a Mexican Standoff and no pun intended either.
Jaime wants to let his guard down but the suit won't allow it. "This doesn't have to end with you going to jail, just tell me what's going on, we both know what you told me was some BS." The two begin to circle each as if they were alley cats fighting over some scarps of food. "The scarab knew you were lying. Besides you can quit with all the insults no point in trying to make it mad anymore."
Although Jaime had some control of the scarab he doesn't know how long that'll last especially with someone as unpredictable as her. Nevertheless he tries to not these senseless mind games with clown. "All I wanted was a simple field trip but I can't even get that." Which he says out loud. To his surprise though harley drops the crowbar at the sound of a Field trip. She jumps in the air with such joy and runs over to hug him. Jaime Reyes I am unable to think of any further actions I did not predict this to be the outcome of thing me. "Me neither pal. Umm can you please let go now." Harley not listening, only begging Jaime to make her tagalong with him so the pair can go sightseeing.
played by Harley Quinn
36 posts
She steps back when she saw the blasters and looks at him
"you're the one that calls yaself 'Blue Beatle' yeah? That's a bug."
She says still holding the crowbar
"and well I didn't bring it, and those aren't guns."
She states and she just watches him as he watches her
"it always ends up with me somewhere I didn't start out…"
she says wanting to continue to rant but she holds her tongue and when he calls what she said BS anger begins to boil again
"I think ya heard me correctly kiddo, someone else brought me here, afta Harley-nappin me, and showed some picture of'a random dude, and then I'm here, so no I ain't BSin' you kiddo, I don't know what I'm doing here, but I'm sure it's not ta get in a fight with a lil' bug kid, and wow, ya know increased heart rates can look like someone's lyin, and in situations someone doesn't wanna be in, their heart rate increases."
She says and then tilts her head
"what insults? If I was insultin ya, I'd call ya a stink-bug or something"
She drops the crowbar and a huge smile appears on her face at the sound of a field-trip and she gets excited and she jumps and hugs him.
"where we goin? Ohhhhh Jason nevea said anythin bout sightseeing!"
she says excitedly and then she covers her mouth.
"Ya know there's a huge bridge, they call it the gold gate, but get this"
she laughs
"it ain't even gold"
she snorts laughing hoping Jaime didn't hear her say Jason's name and so she just keeps laughing until she didn't find her joke funny, which wasn't very long as it wasn't really that funny, nor was it planned very long in advance to when she said it.
"Is it true there's place with'a bunch'a seals bein lazy potatoes?"
she asks Jaime curious and wanting to know if all the things she had heard about San Francisco was true.
"Wait, you're not gonna go around lookin like that are ya?" She asks with a finger pointing and moving her finger up and down towards the Blue Beatle suit he still had on.
played by Blue Beetle
10 posts
Right before Jaime could speak his phone began to ring as the Paco called him along with some texts from Brenda aswell asking Him whats the deal and if he's on some blue beetle work right. "Jaime where are ya man you said you'd catch up with and that was 30 minutes ago man." Jaime sighs before he simply responds with this. "Trabajo Güey" right before he clicks his ear perked up when she said Jason not really making much of it he just brushes it off. Hearing her corny jokes just make this awakward cringe face, and if this was a clown princess she wasn't a very good one atleast with jokes. But nevertheless Jaime thought it'd be best if he just simply keep the girl distracted but with this and the fact that he's still trying to keep the scarab in check seems damn near impossible but it's worth a try like ted always said.
"I don't know much about San Fran that's why I'm assuming I'd come on field trip don't ya think?" Still wrapped in her hug he puts his hand on her forehead and gently pushes her off, as well the the scarab suit reverting back into jaime's spine. Jaime reaches for his wallet "Well I got $50 bucks on me but I doubt we could do much with this." Just before Harley could speak a policeman passes by spotting the pair making what seemed to him as a drug deal going on. "Hey you two hold it right there." Jaime freezes like a deer in headlights, he'd easily go blue if he wanted to right now but he'd also be putting his identity at risk now that law enforcement is involved now.
He elbows Harley to let him know he can't anything with that yikes look on his face. "You could be real useful right now ya know now that we're pretty much on the same boat as of right now." Jaime Reyes Suggested tactic would to evade officer with the wings. "Yeah pal sorry not the best idea at the moment it's best if I leave this to Harley for now." She goes for the crowbar and chucks it at the officer's foot full force. He immediately falls on his ass grabbing his foot in pain. She runs off further into alley waving Jaime to tag along now with her. "Great way to start my welcoming into the city I guess." He sprints toward keeping up with her as the two keep getting as far as they can from him knowing he'll be calling backup too doesn't help either.
played by Harley Quinn
36 posts
She hits the police officer with the crowbar and she sprints off and at a corner she waves Jaime on and then takes off and they get to a dead end and she looks around and smirks.


"going up!"


she yells in a high pitched voice as she runs towards a wall and then bounces off of it and then flips grabbing a window seal and then jumps off until she gets to the roof and she looks around attempting to think of where to go next.
'we could just ditch the kid and get outta here, come on, that's a good idea right there and you know it is'


"Not now, the kid could be thrown inta jail or somethin' and he's just'a kid, we don't do that no more"

she says looking over the edge to see if she can get Jaime up there somehow not knowing that Jaime's suit can make him fly and she looks around with a worried look on her face.


"Man if only there was like a rope or something 'round here"


she mumbles to herself


"Doesn't ya suit voice thing have a way you could get up here?"


She says hearing the police officer's radio nearing towards them
'we're not saving the kid, leave him, he can take care of himself'


"we're not leaving him, he was gonna take us sightseein, and after our asses cool off, that's just what we're gonna do"


she says outloud and then looks at Jaime


"Hide somewhere, behind the dumpster or something"


she says and then rounds towards where the officer was coming from and when Jaime had hide himself she waited for the officer to go around the corner facing her and Jaime.


"hey bozo up here!"


she yells as she jumps off of the roof and her foot collides with the officer's jaw knocking him on his back and she stands above the officer with a smile on her face


"my foot likes ya face, I think it wants ta give ya another kiss"


she giggles and then stomps on the officer's face knocking the officer out and she looks at the officer and then waves at him and turns towards Jaime


"I may have lied ta him, my foot doesn't like him at all"


she jokes and she smiles at Jaime


"now, shall we go before he wakes up with a killer headache?"


she asks with a smirk on her face


"ya welcome by the way"


She says stepping over the officer and she continues walking without looking back at Jaime to see if he was following her.
1 User(s) are reading this topic (1 Guests and 0 Anonymous Users)
0 Members:
Skinned World's Finest by
Thisbe
of RPG-Directory